1/1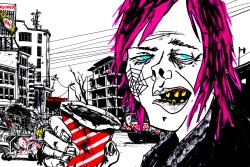 ---
NEVER DRIVE A CAR WHEN YOU'RE DEAD
East Coast Premiere
Director: Gregor Dashuber
Germany, 2009, 10 min
Festival Year:2010
Category:Animation
Cast:Sebastain Becker, Nora Abdel Rim Maksoud, Volkram Zschiesche
Crew:Executive Producer: Julie Lamarre - Producer: Holger Lochau (HFF "Konrad Wolf") - Screenwriter: Gregor Dashuber - Editor: Martin Reimers - Cinematographer: Gregor Dashuber - Original Score: Marian Mentrup - Sound: Marian Mentrup
Sales:Cristina Marx - University of Film and Television (HFF) "Konrad Wolf", Marlene-Dietrich-Allee 11, Potsdam-Babelsberg, D-14482, Germany - T: 0049 (0)331 6202 564 - F: 0049 (0)331 6202 568
Email:distribution@hff-potsdam.de
Synopsis
The awkward hero stumbles over a long forgotten piano. Music leads him from his run down existence out into the city life. There he plays a last funeral march to all the deadbeat figures on the sidewalk.
Trailer
About the director
Gregor Dashuber is originally from the Bavarian countryside. Feeling a little cramped after 20 years of growing up in Oberammergau, he moved to Berlin to study Animation at the HFF Konrad Wolf in Potsdam Babelsberg in 2002. During studies he specialized quickly in hand-drawn 2D animation. Together with Annette Jung he realized a ghoulish version of Edgar Allen Poe's Story " The tell tale heart" in 2006. His morbid graduation film "Never drive a car when you´re dead" was finished in 2009. It has been screened on several festivals around the globe, entertaining and disgusting people at the same time. He is working in the Berlin based animation studio TALKING ANIMALS.
Notes
Director Gregor Dashuber and Composer Marian Mentrup will be available for Q&A after the screenings.
Related links