1/1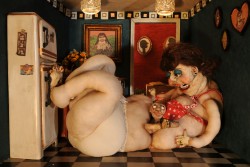 ---
FUZZY INSIDES
United States, 2009, 6 min
Festival Year:2010
Category:Animation
Crew:Michaela Olsen
Sales:Michaela Olsen - Brooklyn, NY 11215
Email:molsen@g.risd.edu
Synopsis
Take a peek into the secret nightlife of the suburbs. Four stop-motion vignettes portray relationships that develop romantically and sexually, with a touch of awkwardness.
Trailer
About the director
Michaela Olsen was born and raised in New Hampshire. She graduated from the Rhode Island School of Design in 2009 with a BFA in Film/Animation/Video. In the past few years, Michaela has developed a passion for character and set design, sculpture, and stop-motion animation. She currently resides in Brooklyn, NY.
Notes
Director Michaela Olsen will be available for Q&A after the screenings.
Related links