1/1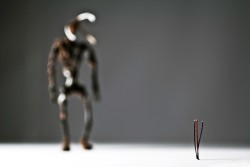 ---
THE FLESH CHAPTER 1, ANGLE OF TRAJECTORY
East Coast Premiere
United States, 2010, 7 min
Festival Year:2010
Category:Animation
Crew:Screenwriter: Sam Barnett - Editor: Sam Barnett - Cinematographer: Sam Barnett - Original Score: Sam Barnett, Ben O'Brien, Host Family, Sexy Ultimatum - Sound: Sam Barnett, Ben O'Brien - Chemist: Mark Lipke
Sales:Sam Barnett, Berkeley CA, 94703 - T: 510-684-5225
Email:barnett.film@gmail.com
Synopsis
The subconscious of the Wireman controls everything that happens in the strange world in which he finds himself trapped. The Wireman wakes up into this world which is between dream and consciousness. he is assaulted by his primal fears and desires. Ultimately he must define the nature of his role within this world before he is able to understand the implications of his decision.
Trailer
About the director
Sam Barnett is a student Filmmaker/animator. His work often deals with fear and the subconscious, complex processes both psychological and biological.
Notes
Sam Barnett will be available for Q&A after the screenings.
Related links