1/1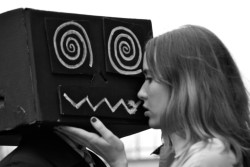 ---
DISPOSABLE
World Premiere
United States, 2010, 6 min
Shooting Format:16mm
Festival Year:2010
Category:Narrative Short
Cast:Stephanie Ellis, Ben Mac Brown
Crew:Executive Producer: Imagine Science Films - Producer: Lamia Alami - Screenwriter: Alexis Gambis - Editor: Alexis Gambis - Cinematographer: Omar Zuniga Hidalgo - Original Score: Daniel Wohl - Sound: Shripriya Mahesh - Costume Design: Luis Violante
Sales:Alexis Gambis - Imagine Science Films - Brooklyn, New York, 11215, USA - T: +1 917 4007781
Email:agambis@imaginesciencefilms.com
Synopsis
Searching for an immediate love connection, Zoë, the quintessential femme fatale, meets up with a robot on a blind date in a junkyard in Brooklyn. A tandem bike ride, Polaroid snapshots on abandoned railroad tracks, a carnal squeeze on the Gowanus canal overpass - all the ingredients that constitute a normal human-mechanical love recipe in this neo-alternative reality. However, Zoë wants more on this one-day affair. Can the robot satisfy her emotional needs?
Trailer
About the director
Alexis Gambis is a 28-year-old filmmaker who was born in Paris, France. Raised in the suburbs of Paris, he moved to the other side of the Atlantic for New York in his late teens and became fascinated by how science and technology intersect with life and people. He received his Ph.D in molecular biology and genetics at the Rockefeller University in June 2009 and is now enrolled in NYU's M.F.A Graduate Film Program. In parallel to his film studies, he is an adjunct science faculty member at NYU's College of Arts and Sciences and the Artistic Director of the Imagine Science Film Festival, the first science film festival on the East Coast. As a scientist and filmmaker, Alexis strives to enhance public understanding of science and technology and to humanize scientists through visual storytelling. In his research days, he encountered many working scientists, all with intriguing personal stories. He decided to make narrative films about science in New York City, the center of independent film-making. He is currently preparing his first feature, 'The Fly Room,' based on the life of the pioneer geneticist Calvin Bridges known for his seminal work in understanding genetic inheritance in the laboratory and his sex addiction outside of the laboratory.
Notes
Director Alexis Gambis will be available for Q&A after the screenings.
Related links