1/1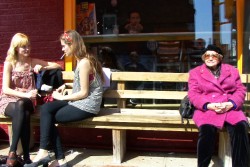 ---
THE QUEEN OF WILLIAMSBURG
World Premiere
Cast:Leonora Russo, Vinnie, Pete, The Poet
Crew:Director: Klara Egei - Executive Producer: Tom Semmel - Editor: Klara Egei - Cinematographer: Klara Egei - Original Score: BMCC SoundLibrary - Sound: Klara Egei
Sales:Klara Egei - Roslyn, NY, 11576, USA - T: 1-646-407-2911
Email:eclaire10@gmail.com
Synopsis
Leonora Russo is a widower who has been living in the same rent controlled Williamsburg apartment for the past 60 years. This short documentary follows her on an average day, as she walks down Bedford Avenue, past the funky boutiques and expensive cafes. Leonora is not only surviving in this youth oriented environment, she is thriving. She is known as "The Queen of Williamsburg" (though some call her "The Mayor") and is widely acclaimed for both her unique style and for her advocacy work for the People's Firehouse.
About the director
Klara Egei is a Hungarian-American filmmaker and a graduate of City University of New York, City College. She has made a number of shorts including the documentaries: "Four Wheel Passion" - about an antique car collector, " "Sikh Spirit" - celebrating Vaisakhi in Manhattan, "The Last Mohican" - about the Albanese Butcher Shop in Manhattan which has been preserved in a time capsule since the early 1920's, and "Imagine" - a piece about Gary, the homeless Mayor of Strawberry Fields who makes his living by decorating John Lennon's favorite spot in Central Park, with discarded flowers. "The Queen of Williamsburg" won the best production award in the 2009 City College student film festival.
Notes
Director Klara Egei and "The Queen of Williamsburg" Leonora Russo will be available for Q&A after the screenings.
Related links