1/1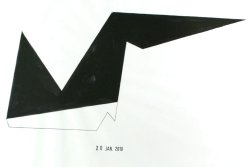 ---
ONE SECOND PER DAY
(Une seconde par jour)
World Premiere
France, 2011, 7 min
Shooting Format:HDV
Festival Year:2011
Category:Animation
Crew:Producers: Aurélien Guégan - Cinematographer: Richard Negre - Editor: Richard Negre - Composer: David Le Bouhellec
Email:richardnegre@yahoo.fr
Synopsis
One second of film, meaning 25 drawings per day during one year, that's the goal.
Trailer
About the director
As a visual artist, Richard Negre's research is questioning our relation with time and poetical strategies we invent to deal with it. Background in animation (Gobelins animation school) and PhD in fine arts, he shows his work in international festivals (Ottawa award, Annecy, Brooklyn, Montreal, Tokyo, Chitose, Zagreb) as well as art spaces (Jean Brolly Gallery Paris, Art dans les Chapelles, La Force de l'Art 02 Paris Triennale, Grand Rapids Art Museum MI, Espace d'art contemporain Camille Lambert, Drawing Now Art Fair, Design Biennale St-Etienne).
Notes
Director Richard Negre will be available for Q&A after the screening.
Related links