1/1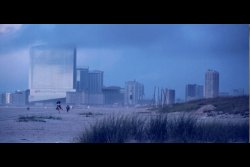 ---
SEA LEGS
World Premiere
Cast:Sarah-Jane Casey, Zachary Waters, Dane Thomsen, Mike Lubik
Crew:Producers: Amanda Rosa - Screenwriters: Amanda Rosa - Cinematographer: Nick Bentgen - Editor: David Vendette
Email:amandarosa6@gmail.com
Synopsis
When a nine-year-old son of a professional gambler is left alone in a parking garage in Atlantic City, he witnesses an altercation between a showgirl and her manager. Intrigued, the boy follows her onto the boardwalk, and the pair form an unusual and comforting friendship, temporarily leaving their problems behind.
About the director
Amanda Rosa lives in Brooklyn, NY.
Notes
Director Amanda Rosa will be available for Q&A after the screening.
Related links