1/1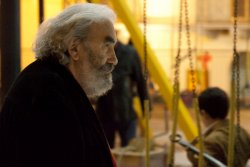 ---
THE TRAVELERS OF THE MOON
(I viaggiatori della luna)
US Premiere
Director: Mariangela Fasciocco
Italy, 2012, 14 min
Shooting Format:RED
Festival Year:2012
Category:Narrative Short
Cast:Beppe Chierici
Crew:Cinematographer: Gianni Chiarini - Editor: Lorenzo Loi
Email:mariangelafasciocco@gmail.com
Synopsis
When the carnival comes to town, the old blacksmith helps to repair the chair swing ride, and experiences a rejoining with his former itinerant life and with the family that saved him years ago.
Trailer
About the director
Mariangela Fasciocco is an italian freelance filmmaker and director. She graduated in Film Studies at DAMS at Bologna University in 2007. During her education she started to work as an on set assistant and later as a director. In 2004 she wrote and directed her first short movie "La seconde peau," produced by Saint Dénis Université Paris VIII. In 2007 she wrote and directed the music video "American B" for the band Jazzspteppa! and in 2008 wrote and directed the EPK for the band Rosa Alchemica and directed "Glue" a short-movie produced by Tensecond Production. In 2011 Mariangela shot "THE TRAVELLERS OF THE MOON" in the gypsy language, which was in competition at many festivals in Italy.
Notes
Director Mariangela Fasciocco will be available for a Q&A after the screening.
Related links