1/1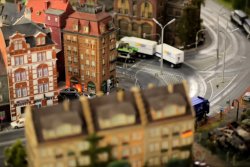 ---
HURDY GURDY
NY Premiere
Director: Daniel Seideneder & Daniel Pfeiffer
Germany, 2011, 4 min
Shooting Format:35mm
Festival Year:2012
Category:Narrative Short
Crew:Producers: Susanne May, dropout-films - Screenplay: Daniel Seideneder - Cinematographer: Daniel Seideneder, Daniel Pfeiffer, Uwe Winter - Editor: Fred Schuler - Score: Ben Hansen
Email:info@dropout-films.de
Synopsis
An enclosed cosmos - just like a hurdy gurdy, that starts over to play its song anew.
About the director
In 2001 Daniel Seideneder began studying media design at Mainz University of Applied Sciences, gaining his diploma in 2007. In 2001 he founded the film production company dropout-films. Today he works as a freelance author and director. He is currently finishing his Masters degree in time-based media at Mainz University of Applied Sciences.
Daniel Pfeiffer was born in Mainz in 1968. From 1991 to 1993 he studied economics at the Jo­hannes Gutenberg-University Mainz. From 1992 to 1995 he was trained by Pierre Wyss and Enno-Ilka Uhde in stage directing and the dramatic composition of ballet. From 1993 to 1996 he studied theatre and film studies and political science at the Johannes Gutenberg-Universi­ty. He then went on to study media design at Mainz University of Applied Sciences, until 2004. Since then he has been working as a freelance author and director of documentaries for Film and TV.
Filmmaker's note
The film observes people and their mannerisms and puts their individuality into a larger context. Time lapse and tilt-shift techniques are used to create a fairytale depiction of everyday life. This film technique allows us to step back and observe our planet from a distance. From here earth seems to be a mere anthill. People move around our planet like lemmings. Everyone is taken in by their own personality and completely convinced of their individuality. Subconsciously however, everybody moves along the same path, following the person in front of them. People do not even realize they are all going with the same flow. Mainstream is a new kind of individuality or is individuality a new kind of mainstream? The result is an interesting tension between the inner and outer perception of our world. Football matches become rhythmic waves of attack and defense, train stations and airports are flooded by great tides of people. Our own habitat is a playing field and we move around on it like pawns. This film portrays a truth that can be derived from the universality of the individual.
Related links