1/1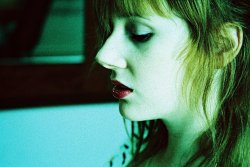 ---
CARBON
World Premiere
United States, 2011, 10 min
Shooting Format:Super 16
Festival Year:2012
Category:Experimental
Cast:Laura Houha, Kristy Hartsgrove, John Watkins, Jennifer Harris
Crew:Producers: Craig Webster - Screenwriters: Craig Webster, Maia Melton - Sound Designer: Maia Melton - Cinematographer: Christopher Renaud
Email:webstc@gmail.com
Web:www.bracno.com
Synopsis
Carbon follows a young woman through a series of chance encounters, as if following a single atom on its journey. Unformed motion and light connect to her thoughts, as the very act of living becomes overwhelming and confounding. Sounds of water, wind, and fire paint her perceptions into the world, accentuating the threshold between animate and inanimate.
Trailer
About the director
Craig Webster makes films that explore internal, emotional states of characters. He often works in collaboration with a group of filmmakers he met in the Film/Video Production department at the University of Iowa, including Chris Renaud, Maia Melton, and Richard Wiebe. Before filmmaking he studied for an M.Sc. in mathematical modeling at the University of Oxford and worked on video projects about mathematics in Budapest on a Fulbright Scholarship. His films have screened at festivals in the U.S., Canada, and Europe, including the Chicago Underground Film Festival, Antimatter Film Festival, and Black Maria Film Festival. He lives in Iowa City and will soon be moving to Brooklyn.
Notes
Director Craig Webster will be available for a Q&A after the screening.
Related links