1/1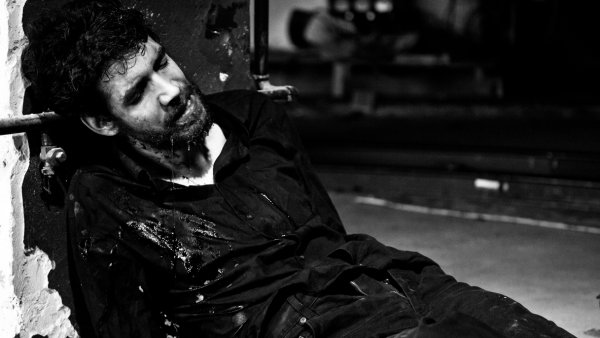 ---
MY BLIND HEART
(Mein blindes Herz)
East Coast Premiere
Austria, 2013, 92 min
Shooting Format:DVCPro HD
Festival Year:2014
Category:Narrative Feature
WINNER: Best Cinematography and Best Actor Male
Cast:Christos Haas, Susanne Lothar, Georg Friedrich, Robert Schmiedt, Jana McKinnon, Christopher Schaerf
Crew:Producers: Therese Seemann, Klara Veegh - Screenwriters: Peter Brunner - Cinematographer: Franz Dude - Editor: Peter Brunner
Email:cataractoffice@gmail.com
Synopsis
Kurt suffers from the rare Marfan syndrome and is almost blind. After killing his mother, he goes on a journey where the boundaries between perpetrator and victim are blurred. Haunted by her calls, Kurt leaves his assisted living home in distress. Taking to the streets, he meets Conny, a 13-year-old runaway from a broken home. She readily participates in Kurt's protest against his body, not knowing what moves him or into which abyss his journey is leading. This visionary, unique film explores how much guilt one individual can endure.
Trailer
About the director
Peter Brunner is a Vienna-based filmmaker, musician (Cardiochaos) and actor. The son of a psychoanalyst and a painting therapist is a former student of Michael Haneke at the Vienna Film Academy. His work includes short films and music videos, which screened at international festivals, as well as the feature Sickness of the Youth, which he directed together with fellow students and in which he played the leading role. My Blind Heart is his feature film debut.
Filmmaker's note
MY BLIND HEART identifies a society which develops in a direction that leads away from the body. It is the direction of permanent activity, on the run from loneliness, and with the goal of optimization. Designer babies seem to become definite and a potential extinction of our main character's existence possible. Through Kurt's starting position in this society due to his body, I try to ask the question of a return to the body, which for me is our last outcry in the 21st Century. MY BLIND HEART is directed inward, it puts the perception of its main character and his inner world at the center. This decision has affected the aesthetics of the film and provided space for the opportunity to work with abstraction. The way one makes a film always describes the film one makes. In my film the borders between victors and defeated, lovers and beloved, David and Goliath, mother and son are torn apart. Who is the victim, who the perpetrator?
Related links