1/1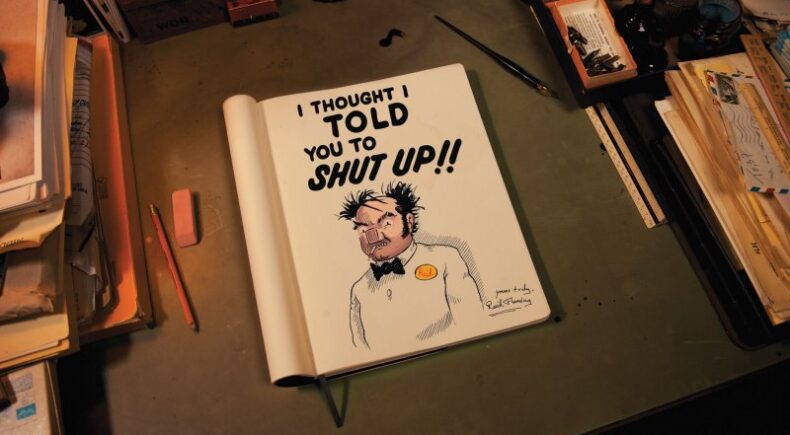 ---
I THOUGHT I TOLD YOU TO SHUT UP!!
East Coast Premiere
Cast:Jonathan Demme, David Boswell, Matt Groening, Kevin Pollak, Ed Asner
Crew:Produced by: LaRue Entertainment - Exec. Producers: Kyle Fowler & Scott Mackenzie - Assoc. Producer: Ardith Birchall - Director of Photography: Chet Tilokani - Edited by: Josef Beeby - Animations by: Brett Long, FunkFuzz, Daniel Lefebre
Email:trevor@larueent.com
Synopsis
In the late seventies David Boswell created Reid Fleming, the World's Toughest Milkman, a comic book anti-hero and counter culture icon. By the following decade, Warner Brothers was preparing a Hollywood feature film. Now, over 30 years later, the character is still mired in contractual limbo, or development hell. Narrated by Academy Award-Winner Jonathan Demme (The Silence of the Lambs, Stop Making Sense), I Thought I Told You To Shut Up!! combines stop motion animations with interviews from Boswell, his Hollywood friends, and fans as they discuss the enduring appeal of the World's Toughest Milkman.
Trailer
About the director
Charlie Tyrell is an eclectic Torontonian filmmaker whose documentary subjects have ranged from battle-tested pool sharks to members of the infamous Hells Angels. With I Thought I Told You To Shut Up!!, he investigates the value of original artistic properties vs. lucrative Hollywood franchises.
Related links