1/1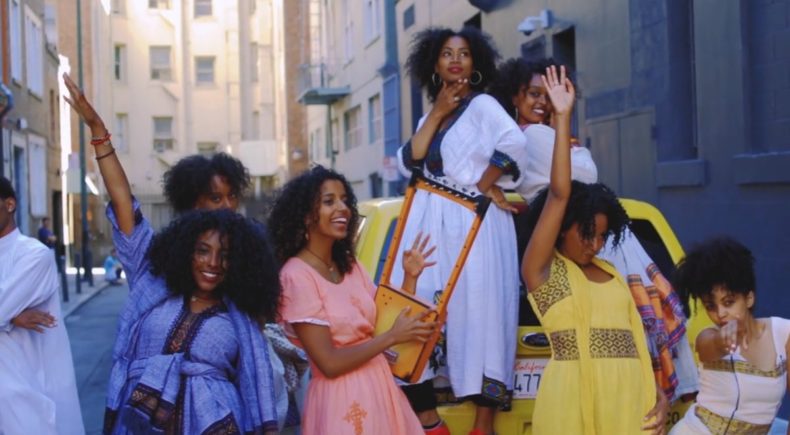 ---
LIFE IS FARE
World Premiere
Cast:Almaz Negash, Getu Mehari, Isaac Berhe, Natra Zeryihun, Esther Kibreab, and Sephora Woldu
Crew:Producers: Sephora Woldu, Richard Alex Durante, Marshall Moses, Larry Madrigal, Kagure Kabue - Screenwriters: Sephora Woldu
Email:holler@abyssurdian.com
Synopsis
Life is Fare is a Tigrinya/ English feature film exploring three wildly different perspectives on the East African nation of Eritrea. The film's premise follows Sephora, an idealistic young Eritrean American pitching a well meaning but ludicrous film idea to her traditional mother about a man (Haile) who fled their home country and ended up in San Francisco. As a recently arrived immigrant, Haile is terribly homesick for his native Eritrea, but will not admit it due to unease towards speaking ill of the country; and more consciously in hesitance of admitting hard truths about his culture and himself. Life is Fare is a cross cultural analogy to challenge how patriotism and nationalism are practiced by people of a country, and is inspired by current Eritrean and Ethiopian migration journeys.
Trailer
About the director
Sephora Woldu is an Eritrean American visual artist and filmmaker based in San Francisco. Life is Fare is Sephora's first feature length film and her third project. Her first film, Impresa!, debuted at the 2013 San Francisco Black Film Festival and has since received awards at festivals including the Independent Film Awards Berlin, Montreal International Black Film Festival, and the Silicon Valley African Film Festival. Her second film, Exit, was made in Luxor, Egypt as a selected filmmaker for the 2014 Haile Gerima Alternative Film Production Workshop, a film program created in partnership with the Luxor African Film Festival. Sephora has received funding for her work from the San Francisco Arts Commission, SF Film Commission, Yerba Buena Center of the Arts, and Wildflower Institute. In 2013 she founded Abyssurdian Productions LLC, a creative studio from which all of her films and projects are released. Additionally, Sephora is a a full-time student pursuing a Master's in Architecture from California College of the Arts and currently works at the design firm IDEO because among other things, she is full of surprises.
Filmmaker's note
As a first generation Eritrean American, I am fascinated by the experiences of a growing Eritrean population worldwide-- those living inside and outside of Eritrea-- and the disconnect that naturally forms from our distance with each other. Culture adapts with the movements and locations of its people, and Life is Fare is my cultural response to the absurdity of wondering if preserving what it means to be Eritrean clashes with actual realities of Eritrean people. With that said, it's written and directed by me, a self taught filmmaker, self declared hooligan who first moved to San Francisco in 2007 and has loved the city ever since--even as it also changes. We filmed at Yellow Cab Cooperative (SF's largest taxi company) before they went bankrupt and disappeared from Pier 70, and at The Gangway (SF's oldest gay bar) before they got bought and closed down. We cast local characters like Ron Turner (Last Gasp Publishing), Ziek McCarter (Con Brio) and the blues legend Oscar Myers. Post-production was completed at the historic Hyde St. Studios in the Tenderloin, the neighborhood where the film is primarily set. This is a San Francisco film about Eritrea. It's colorful and visually whimsical in a way that can only be described as if the Wizard of Oz went to Africa.
Notes
Director Sephora Woldu will be available for Q&A after the screening.
Related links