1/1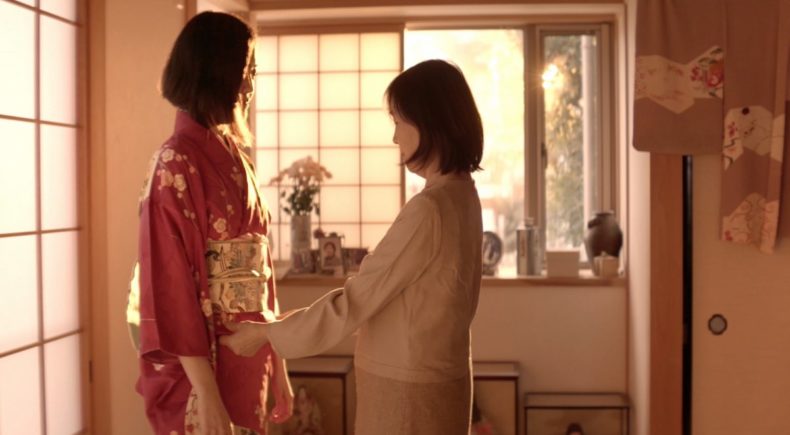 ---
OKAASAN (MOM)
World Premiere
Director: Kana Hatakeyama
Cast:Kana Hatakeyama, Kako Hatakeyama
Crew:Producers: Kana Hatakeyama - Screenwriters: Kana Hatakeyama - Cinematographer: Chris Rudz - Editor: Kana Hatakeyama, Ronnie Rios -
Email:kana.hatakeyama@gmail.com
Synopsis
Guilt, old resentment, distance, loss, and love simmer quietly in this story of a mother and a daughter, brought together after the daughter returns to her mother's home in rural Japan for the first time following the death of her grandmother.
Trailer
About the director
Kana Hatakeyama is an award-winning Japanese + American filmmaker and actor based in Brooklyn. "FITNESS! or a story about SWEAT" is her second film as writer-director. Her first film "okaasan (mom)," filmed in Japan, premiered at Brooklyn Film Festival 2018, followed by screenings at New Orleans Film Festival (Audience Award), Nitehawk Shorts Festival (First Time Filmmaker Award, Audience Award), Dallas International Film Festival (Special Jury Award), Nantucket Film Festival, CAAMFest, San Diego Asian Film Festival, and more, and can currently be seen online on NoBudge and Directors Notes. She received a grant from Future of Film is Female for "FITNESS! or a story about SWEAT" and for her first feature screenplay currently in development, she was a resident at SPACE on Ryder Farm and semi-finalist for the Sundance Screenwriters Lab. As an actor, she has performed in critically-acclaimed plays in New York City and around the country, as well as in the Emmy Award-recognized Netflix shows "Unbreakable Kimmy Schmidt" and "Orange is the New Black," the latter in a recurring role in its sixth season as inmate Charlene Teng. Film acting credits include "Tape" (starring Isabelle Fuhrman) and "Split," both directed by Deborah Kampmeier ("Hounddog," Sundance Grand Jury Prize nominee). Kana grew up in both Japan and the United States, and has also spent time living in France, Argentina and Kenya. She is a graduate of Duke University. Instagram: @kanahata
Filmmaker's note
While this is my first film as a writer-director, storytelling is not new to me. Over the years, I've been most active as an actor in theater, television and film, based in NYC, but my aim has always been to eventually land in filmmaking, as a writer and director. I completed the screenplay in early November 2016. With the political happenings at that time, I felt a sense of urgency in creating art that mattered the most to me. I had very few contacts in film production in Japan, but through my various social networks, I was able to assemble an incredibly talented international crew of 5 people all based in Japan, connecting with them through emails and video chats, all whom I met for the first time when I flew over to Japan from New York for production. Eight weeks after I finished the screenplay, I was in Nara prefecture, shooting the film with my team of first-time collaborators. This film is a passion project, and a true labor of love for two main reasons. First, I got to shoot in my native Japan, and capture what my beloved homeland has meant and felt like for me over the years, a different perspective from the representation of Japan in film I'd been exposed to growing up in the U.S., which generally seems to focus more on the exotic aspects of the country and culture. I wanted to portray a mother-daughter story set in an area of Japan that I personally love, a distinct Japanese space where bits of the urban and the mythical nature co-exist. And though I've been influenced by a variety of filmmakers from across the globe, the great Japanese filmmakers like Ozu and Mizoguchi have a special significance for me, so it felt fitting that my first film be set in Japan. Second, I got to act opposite my mother, who lives in Japan; making this film with her in particular was a very special experience, having lived on different continents for so long. My mother isn't a professional actress, but something about her way of being made me feel like she would be great on-camera. Also, I felt like the real-life relationship we share would bring an unique and interesting added layer to the story. I am grateful to be able to share this film with you. Thank you for the opportunity.
Related links