1/1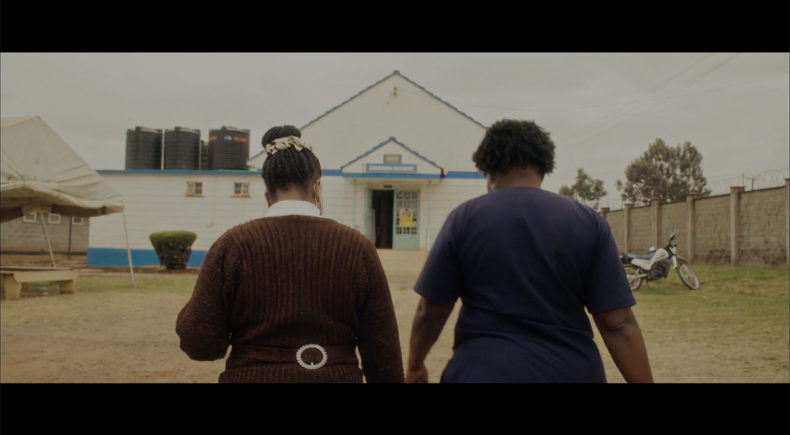 ---
Rollout
World Premiere
United States, Kenya, 2022, 17 min
Shooting Format:Digital
Festival Year:2023
Category:Documentary Short
Genre:Documentary
Cast:Laureen Wanguba, Evelyn Nyaaga, Florence Kabuga, Pastor George Kyalo
Crew:Producers: Kristen Schlott, Trevor Zimmer, Kevin Madegwa. Director of Photography: Ben McIntire
Email:kristenschlott@gmail.com
Synopsis
"Rollout" is a vérité-style journey alongside residents of a tight-knit Kenyan community gripped by the "shadow pandemic of vaccine hesitancy," as they face mounting pressure from a government they don't trust, to get a vaccine they suspect may cause more harm than good.

The story is anchored by keen observations from Laureen - a mother and immunization nurse in Kibera, East Africa's largest informal settlement - as she grapples with her own personal decision to get the Covid-19 vaccine. As she weighs her options and manages misinformation-fueled doubts about whether the jab is safe for baby and herself, she must also carry out her Ministry of Health mandate to administer the vaccine to fellow Kibera residents.

As rollout efforts expand across the county, Laureen and fellow healthcare workers visit with a colorful cast of community members - from a church pastor to a radio DJ - that share their perspectives on the vaccination efforts. Through their stories, we feel their visceral mistrust, seemingly sparked by the government's deeply unpopular and aggressive early pandemic response, and further fueled by a relentless flood of misinformation and conspiracy theories. We also hear reference to the deeper historical context that further exacerbates this mistrust, namely the fraught relationship between community members and global health actors, and a global vaccination agenda designed by global elites that disregard the needs of Kibera's residents.

By hearing from Laureen and her neighbors, we begin to see a vivid picture of the powerful and complex narratives and lived experiences driving the "shadow pandemic of vaccine hesitancy," that stubbornly persists today, despite targeted efforts by the WHO and COVAX. As of November 2022, Kenya's population is currently <20% vaccinated, despite the UN goal of 70% vaccination by September of this year.
About the director
Danny Abel is a director, writer and editor based in Echo Park, Los Angeles. His most recent film was produced by Rough House Pictures (Danny McBride, David Gordon Green, Adam Bhala Lough) and was distributed by Gravitas Ventures. Before that he directed the award winning documentary series "New Beginnings" for OnePlus, which premiered on Amazon Prime. He won a Webby for best long-form branded content for his film "Electric," which was produced by VICE and Smirnoff. He's also worked extensively in the non-profit space, with organizations such as Dalberg and the Bill and Melinda Gates Foundation. He has also had two true crime scripts produced at A&E and has edited feature documentaries such as "Liam Gallagher: Knebworth 22'" and an upcoming doc about the band Blur.
Related links