1/1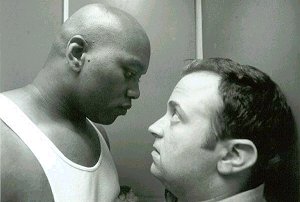 ---
GOING DOWN
US Premiere
United States, 2002, 5 min
Shooting Format:Super 16
Festival Year:2003
Category:Narrative Short
Cast:Dominic Inzana, Jimmy Gary Jr.
Crew:Producers: Keith Perkins, Dominic Inzana - Screenwriter: Dominic Inzana - Editor: Frank Reynolds - Cinematographer: Kevin Murphy - Original Score: Dusty Micale - Sound: Giles Khan
Sales:HYPNOTIC, Nicolas Karlson, 80 South Street, 3rd Fl., New York, NY 10038 - Tel: 212-809-3202 Fax: 212-809-3209 - e: nicolas@hypnotic.com - web:www.hypnotic.com
Email:dinzana@hotmail.com
Synopsis
Stereotypical fears escalate to a darkly comedic confrontation as our neurotic victim makes an offer that can't be refused.
About the director
Dominic's desire to make a short film had nothing to do with his height (5'4"). "Going Down" is Dominic's directoral debut, however he is no stranger to the other side of the camera appearing in numerous films, stage productions and commercials.
Related links