1/1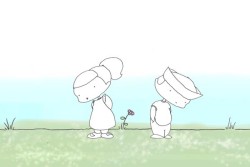 ---
FIRST KISS
NY Premiere
United States, 2004, 2 min
Festival Year:2004
Category:Animation
Crew:Jim Mortensen - Original Score: Neal Snyder
Sales:Meridian Dream Media, Hoboken, NJ - T: 7329966026
Email:jim@meridiandream.com
Synopsis
First kiss is the story of two children too nervous, yet eager, to admit their love for each other. Eventually, through fate, they come together to enjoy being young..
About the director
I was raised in suburban New Jersey with New York ever in the background. Eventually I moved to NY.
Notes
The director will be available for Q&A after the screening.
Related links