1/1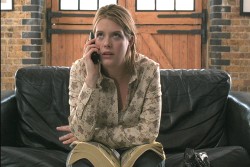 ---
ROVER'S RETURN
US Premiere
Cast:Indira Varma, Andrea Lowe, Stephen Da Costa
Crew:Producers: Simon Tobias, Oliver Ledwith - Screenwriter: Patrick Ledwith - Editor: Andy Walter - Cinematographer: John Ross - Original Score: Marcus Fellowes - Sound: Tony Parkinson, Nigel Clarke - Production Design: Chris Lowe - Stylist: Marta Ortega
Sales:Short End Films, London, England - T: +44 20 87693919 - F: +44 20 87693919
Email:oliled@sef1.freeserve.co.uk
Synopsis
London, present day. Zeta, a thirtysomething highflying advertising executive, decides to leave her beloved dog in the care of Zoe, a junior work colleague, whilst away in Paris for a romantic weekend. Zoe's initial fears about the task at hand prove to be accurate when her inexperience with animals lands her in a sticky situation. Will she find a way out of her predicament before Zeta returns...?
About the director
Oliver was born in Winchester, England, in 1969 but was brought up in Brussels, Belgium and Barcelona, Spain. At the age of 16 he returned to London for highschool education followed by a degree course in Latin American Studies at the University of Essex (2:1 BA Honours). Oliver has spent the last ten years working in the film industry, firstly as production assistant, then 2nd AC and currently as 1stAC.
Notes
The director will be available for Q&A after the screening.
Related links