1/1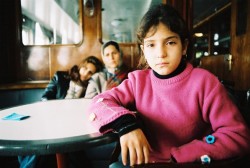 ---
MOTHER'S CROSSING
(PASSAGÈRES CLANDESTINES)
US Premiere
Crew:Producer: Kathleen de Béthune - Editor: Marie-Hélène Dozo - - Cinematographer: Lou Demeyere, Hans Debauw - Original Score: Sylvie Derouck - Sound: Lou Demeyere, Hans Debauw - Reserach: Sedat Aral, Nawzad Tofec
Sales:Kathleen de Béthune c/o Simple Production, Brussels, Belgium - T: + 32 2 217 47 30 - F: + 32 2 217 09 30
Email:simple.production@skynet.be
Synopsis
The film tells the moving story of an Iranian woman and her two daughters on the run for their violent husband and father. A people smuggler takes them on a dangerous journey trough the marshlands that separate Turkey from Greece. At four o'clock in the morning Rojanne (11) - who cannot walk - is literally carried across the European border on the back of the smuggler. The documentary contains exclusive footage filmed by the smugglers themselves. It shows how they hide for the police - inflate their rubber boat - and paddle across the border river in almost complete darkness. People smugglers are invariably labelled as rock hard criminals - who make desperate refugees the victims of their greed and operate in vast networks. The truth is different. A fair number of smuggling operations are relatively small - safe and good value for money. Refugees do not see themselves as victims but as customers. "The smuggler did not push me on this dangerous journey," says Sima, the mother. "I took the decision alone, in my heart."
About the director
Director Lode Desmet (1965) has made documentaries for BBC, France 2, IKON, VPRO, NPS, ZDF-ARD, YLE, SVT, the Belgian tv-stations VRT and RTBf, and ARTE.
Notes
Director Lode Desmet will be available for Q&A after the screening.
Related links