1/1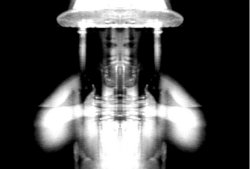 ---
MALDOROR: A PACT WITH PROSTITUTION
NY Premiere
Director: Micki Pellerano & Nate Archer
United States, 2004, 10 min
Shooting Format:16mm
Festival Year:2005
Category:Experimental
Cast:Marissa Johnson, Jay Honstetter
Crew:Original Score: Daniel Mitha - Production Design: Jason Thibideau and Christian Holstad - Makeup: Vashti Windish
Sales:Micki Pellerano - Brooklyn, NY
Email:sorrow93@hotmail.com
Synopsis
Based on the epic prose poem by Lautreamont detailing the metaphysical adventures of the sinister Maldoror. This episode involves Maldoror's hallucinatory encounter with an entity in the form of a glowworm that promises him enlightenment in exchange for the murder of a wraith called Prostitution. Maldoror, enraged, slays the hideous worm and makes love to Prostitution sealing his arcane initiation by which he is enlightened and transformed into a demon enemy of humanity.
About the director
Micki Pellerano graduated in 2002 from NYU with a degree in Experimental Theater. He lives in Brooklyn where he studies the paranormal, makes artwork, and writes for counter-culture publications.
Nate Archer has a broad backround in experimental video and music production. He currently lives in San Francisco where he actively contributes to film projects with versatility.
Notes
Cast & Crew will be available for Q&A after the screening.
Related links