1/1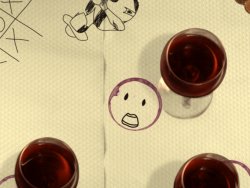 ---
PRUDENCE 'A TORT OU A RAISON'
East Coast Premiere
Director: Joris Clerté & Philippe Massonnet
France, 2004, 2 min
Shooting Format:Beta
Festival Year:2005
Category:Animation
Crew:Screenwriter: Joris Clerté - Animation : Philippe Massonnet - Music : Prudence (Joris Clerté, Emmanuel Enault)
Sales:Virginie Giachino - Paris, France - T: +33 6 86 95 23 88
Email:atortouaraison@hotmail.com
Web:doncvoila.net
Synopsis
Three people talk around a restaurant table.
About the director
Joris Clerté One day in 1991, just after finishing his Fine Arts studies, Joris Clerte tried his hand at making an animated short. He fell in love with this new form. Since then, he has directed animated advertisements and music videos. When he isn't animating, he spend his time singing!
Philippe Massonnet: After studing animation in Paris, Philippe has been working on animated films, ads, music video, as well as writing songs and drawing comics.
Related links