1/1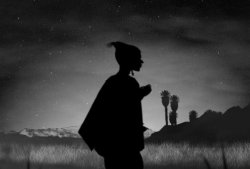 ---
TWO AROUND THE MOUNTAIN
US Premiere
Director: Lina Dorado & Luis Cantillo
United States, 2005, 6 min
Festival Year:2005
Category:Animation
Crew:Animation: Luis Cantillo - Idea: Lina Dorado - Original Score: Sebastian Cruz - Story: Lina Dorado - Storyboards: Dorado and Cantillo - Sound: Luis Cantillo
Sales:Luis Cantillo - Brooklyn, NY
Email:luis AT telegrama.org
Synopsis
At two in the morning on a day like today a man and a woman leave their homes in the highlands and start running. Watch their lives unfold in real time and glimpse, for a brief moment, the curious links between the Andes and the Himalayas. Based on a true story.
About the director
Lina Dorado and Luis Cantillo are two artists working on collaboration since 1994, their multimedia art practice includes video installations, photography, film, drawing and books. Their work attempts to reveal the visual impossibility of capturing the sense of faraway places while questioning the notions of the familiar and the foreign. Their work has been shown internationally in numerous museums and art galleries. Authors of books: "Drawing Only" published by Villegas Editores (2001) and "Second Sight" published by Taller Arte Dos (2004) part of the artist book collection of MoMA and Whitney Museum in New York. The animation "Poporo" (2004) won first prize at the Interamerican Biennial of Video Art and it is currently displayed at the Gold Museum in Bogotá Colombia. Lina and Luis are graduates of Saint Martins College of Art (London), Luis completed his MFA in Computer Art at SVA and Lina is a candidate for the MFA Film at Columbia University in New York.
Notes
Filmmakers will be available for Q&A after the screening.
Related links