1/1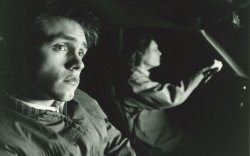 ---
THE FOSTER SON
World Premiere
Director: Ellen-Alinda Verhoeff
United States, 2004, 18 min
Shooting Format:Super 16
Festival Year:2005
Category:Narrative Short
Cast:Alex Rupp, Onni Johnson, Gerry Bamman
Crew:Producers: Gustavo Moraes, Carolina Freitas da Cunha, Ellen-Alinda Verhoeff - Screenwriter: Heather Zehring - Cinematographer: Milton Kam - Original Score: Marcelo Zarvos - Sound: Kurt Enger - Sound Design: Danny van Spreuwel - Production Design: Kristin Paquette - Casting: Judy Henderson
Sales:Ellen-Alinda Verhoeff, Nova Zemblastraat 594 1013 RP Amsterdam - The Netherlands - T: + 31194867793 - F: + 31194867793
Email:ellenverhoeff@yahoo.com
Synopsis
A teenage runaway finds shelter with a warm, elderly couple. Slowly, he lets his guard down - but by then, it may already be too late.
About the director
Ellen-Alinda Verhoeff was born in the Netherlands. Her former short ABBIE DOWN EAST played in 50 film festivals worldwide; Berlin, Tehran, Toronto, New York ao. It qualified for the OSCAR Live Action Short three times and has won 20 international awards. Verhoeff is a graduate of the Dutch Film Academy in Amsterdam. In New York she recently graduated from Columbia University's Master Program in Film. She is currently working on her first feature Building Atlantis.
Notes
Cinematographer Milton Kam will be attending the screening.
Related links