1/1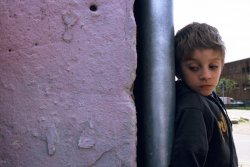 ---
OLLI
US Premiere
Germany, 2005, 11 min
Shooting Format:35mm
Festival Year:2005
Category:Narrative Short
Cast:Sam Scollin, Leoni Benice Baeler, Elisabeth Degen, Matti Wien
Crew:Producer: Jens Freels - Screenwriter: Jack Rath, Jens Freels - Cinematographer: Thomas Hubener - Original Score: Enis Rotthoff - Sound: Jacob Ilgner, Immo Trumpelmann
Sales:Jens Freels c/o HFF, JENS FREELS - Kochhannstr. 4 10249 Berlin, GERMANY - T: +493023362513 - F: +493023362512
Email:jensolaffreels@aol.com
Synopsis
A cinema tale about a little boy who escapes his tormented life at home and discovers freedom through his will and imagination. Olli moves from closure to the open space, then from weight to weightlessness, in order to be free from them all.
About the director
Jack Rath graduated with a Bachelor of Media Arts at the Royal Melbourne Institute of Technology. He later worked in production houses and advertising agencies. During this time he made several short films and then moved to Berlin where he writes and directs for film and theatre.
Notes
Director Jack Rath and Producer Jens Freels will be available for Q&A after the screening.
Related links