1/1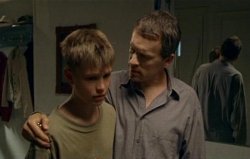 ---
LITTLE RABBIT IN A HOLE
(Huschen in der Grube)
US Premiere
Germany, 2004, 11 min
Shooting Format:Super 16
Festival Year:2005
Category:Narrative Short
Cast:Christopher Reinhard, Soraya Richter, Katharina Groth, Dirc Simpson,
Crew:Producers: Ursula Muller, Oliver Fleischmann - Screenwriter: Esther Bernstorff, Hanna Doose - Editor: Wolfgang Gessat - Cinematographer: Markus Zucker - Original Score: Gerit Borth, Lars Buri
Sales:Erica Margoni c/o Deutsche Film- und Fernsehakademie Berlin (dffb), Potsdamer Str. 2, 10785 Berlin, Germany - T: ++49 30 257 59 152 - F: ++49 30 257 59 162
Email:margoni@dffb.de
Synopsis
After this specific day, that starts out as normal as any other one, the relationship between twelve year old Marcus and his father will never be the same.
About the director
1979 born in Cologne, Germany. 1999 - 2000 European Film College, Denmark. Since 2001 studies directing at the German Film-and Television Academy Berlin.
Related links