1/1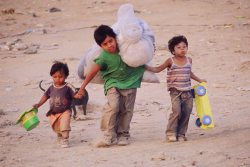 ---
RECYCLED LIFE
NY Premiere
United States, 2006, 38 min
Shooting Format:DVCam
Festival Year:2006
Category:Documentary Short
Cast:Christian Saliezar, Hanley Denning
Crew:Producer: Mike Glad - Screenwriter: Leslie Iwerks & Mike Glad - Associate Producer: Michael Fey - Original Score: Mader - Sound: Scott Sanders & Ear Candy
Sales:Leslie Iwerks & Mike Glad c/o Iwerks-Glad - Santa Monica, CA - T: 310 458-8885 - F: 310 458-8885
Email:liwerks@speakeasy.net
Synopsis
For over sixty years, children have been born and raised here, parents and grandparents eat and survive here... Thousands of families have thrived in the largest and most toxic and dangerous area in all of Central America. For decades, the Guatemala City Garbage Dump and its inhabitants ("guajeros") who recycle the city's trash have been shunned by society and ignored by the government, until a disastrous event in January 2005 forever changed the face of this landfill and the many people who call it home. Through this compelling story, the filmmakers have captured the beauty, humor and remarkable contrast that resonates throughout this vast wasteland of garbage, as generations of families struggle through an ongoing cycle of life.
About the director
An award-winning director/producer and third generation filmmaker from a two-time Oscar winning family, Leslie Iwerks is continuing in the line of producing compelling, quality and entertaining projects on a variety of subjects. She is directing, writing, and executive producing an upcoming ABC network special on Pixar Animation Studio's 20th Anniversary. In addition, she is wrapping post-production on a feature documentary about the history of Pixar Animation Studios and a behind-the-scenes look at the computer animation art form they pioneered. Leslie has been in development with Walt Disney Pictures to produce a large format 70mm film on big wave surfing in association with legendary big wave surfer, Laird Hamilton. 'The Ride' is a big-wave reality-adventure surf film that Leslie directed and co-produced, starring Laird Hamilton and five of the world's top surfers converging in Hawaii for the islands biggest swell in recent history. The surf film garnered the Best Picture Award at X-Dance Film Festival in January 2004. Leslie's award-winning theatrical documentary for Walt Disney Pictures entitled 'The Hand Behind the Mouse-The Ub Iwerks Story' chronicles the life of Leslie's grandfather, Ub Iwerks, the original designer and co-creator of Mickey Mouse and Academy Award winning motion picture pioneer. Her most recent film, Recycled Life, chronicles the thousands of people who have been living and working in the largest and most toxic landfill in Central America over the last sixty years - the Guatemala City garbage dump - of which she made with Producer, photographer and retail chain owner, Mike Glad.
Notes
2007 Academy Award Nominee!
Related links