1/1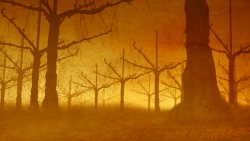 ---
MINISTRY MESSIAH
Latvia, 2005, 3 min
Festival Year:2006
Category:Animation
Crew:Sound: Ramon Schneider & Adam Lieber
Sales:Gints Apsits - Riga, Latvia - T: +371 7314214 - F: +371 7314214
Email:fest@apsits.com
Synopsis
One day I woke up from my deepest dream .... my dream was reality. So, I'm in strange house. Rooms have no windows, no doors - like in prison. Not even walls, no ceilings, no floors - like in field. There is nowhere to run and nowhere to hide .... all around premenstrual silence ... just sky is getting closer ...
About the director
Gints Apsits was born in 1977 in a mental hospital town in Latvia. At the age of fifteen he had to visit a mental asylum as a patient. "Cause they mixed my genius with some kind of illness", Gints jokes and continues: "My father teached me excellent graphic design because he is truckdriver. Huge mental asylum in my hometown gave me some artistic mentality. Since early beginning everybody wanted to prison me in art schools, but I felt naturalborn antipathy to standard education; but they did, and in 4 years in art school I learned how not to do things. Advertising industry teached me to think fast the Things that I don't wanted to think at all. At Fabrica I realise that best ideas come without using the head. When he was nineteen he started to work as art director in several Latvian advertising agencies such as Young & Rubicam 4x4 and Brandsellers DDB. In 2001 he joined the Fabrica graphic design department with the mission to find himself back again. During his permanence at Fabrica, Gints approached several disciplines such as graphic design, video, animation and illustration. He developed numerous projects for Colors Magazine and Killerloop, took care of the visual communication for Paradise from Vocalbox, a project by Fabrica Musica and Koichi Makigami in collaboration with the Institute of Living Voice in Antwerp and directed the short-film The Bonedancer. His works have also been exhibited at the 2002 Fabrica London Festival and published on the Fabrica web site. Today succesfully freelancing motion graphics, illustration, art direction from Riga, Latvia.
Notes
Director Gints Apsits will be available for Q&A after the screening.
Related links