1/1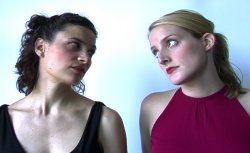 ---
3PM
World Premiere
United States, 2005, 6 min
Shooting Format:MiniDV
Festival Year:2006
Category:Experimental
Cast:Danielle McKechnie, Nurit Monacelli, Sofia Marsano, Carlin Flora, Chris Jozefowicz
Crew:Original Score: Mark Corbin - Sound: Eugene Raikhel
Sales:Iris Bernblum, New York, NY - T: 917-538-8317
Email:ibernblum@earthlink.net
Synopsis
A short story about the irrepressible desire to escape from one's immediate situation. We watch as two friends work together to relieve themselves from the everyday.
About the director
Iris Bernblum was born in Toledo, Ohio. Received a BFA in video art from Art Institute of Chicago in 1997 and an MFA from Columbia Universtiy in 2001. She is currently living and working in New York.
Notes
Director Iris Bernblum will be available for Q&A after the screening.
Related links