1/1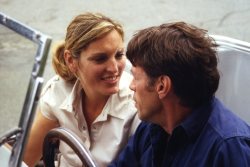 ---
PULPVILLE
East Coast Premiere
United States, 2005, 17 min
Shooting Format:35mm
Festival Year:2006
Category:Experimental
Cast:Sandriel Frank, Michael Cecchi, Steve Ruona, Nobu Tanaka, Hannah Eshel
Crew:Producers: Tai Burkholder, Adam Halpern - Editor: Arzhang Kamarei - Cinematographer: Rob Hauer - Original Score: Andrew J. Cooper - Sound: Damien Panitz - Art Direction: Mica Scalin
Sales:Nina Martinek, New York, NY - T: 917-541-0802
Email:nina@zdenfilms.com
Synopsis
Valentine visits the the town of Pulpville and becomes entangled in a triangle of seduction, treachery and murder. Her father, husband and her lover are all players in this dangerous game of deception. The truth rapidly unspools in a world where nothing is quite what it seems.
About the director
Nina Martinek is a recent MFA graduate from New York University's Tisch School of the Arts. Her films have screened at Sundance, Clermont-Ferrand, Edinburgh, Mannheim-Heidelberg and LA Shorts Film Festival. She shoots documentaries for the UN in Africa and is currently in development for her first feature.
Notes
Director Nina Martinek will be available for Q&A after the screening.
Related links