1/1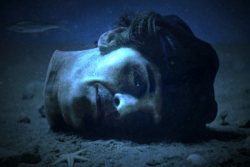 ---
THE HEADLESS SAILOR
(Le Marin Acephale)
US Premiere
France, 2005, 19 min
Shooting Format:Super 16
Festival Year:2006
Category:Narrative Short
Cast:Laurent Ledoyen, Celine Bodis
Crew:Producer: Breviere Nicolas - Screenwriter: Lorenzo Recio - Editor: Stephanie Araud - Cinematographer: Pierre Stoeber - Sound: StephaneLeon, Xavier Thibault , Florent Lavallee - Music By: Jean-Marc Zelwer, Xavier Garcia, Lorenzo Recio
Sales:Nicolas Breviere c/o LOCAL FILMS, PARIS, FRANCE - T: + 33 (0)1 44 93 73 59
Email:localfilms@free.fr
Synopsis
Alonso Samoza is a sailor who felt in love with 2 twin sisters. But to be able to marry one he has to kill first the other one. One day, the cargo he worked for broke down. Trying to mend it, Alonso is hurt and has his head cut off. Beyond death, he'll try to accomplish his destiny.
About the director
After a carear in animation Lorenzo Recio started to directing narrative films. Lorenzo works for the french Tv "Arte".
Notes
Director Lorenzo recio will be available for Q&A after the screening.
Related links