1/1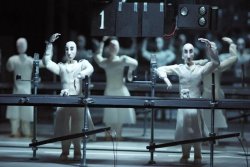 ---
WOLF PARADE
Israel, 2006, 3 min
Festival Year:2007
Category:Animation
Sales:Sarah Butterworth, Production Coordinator - Joyrider Films, Ariel House 74a Charlotte Street, London W1T 4QJ - T: +44 207 299 8811
Email:sarah.butterworth@joyriderfilms.com
Synopsis
Director Adam Bizanski used stop motion animation to re-imagine 1968 as a turning point for industry and creativity. In the film, the Wolf Parade band members are a "factory house band" made obsolete by machines that play music. Bizanski explained that the concept evolved in stages, building the plot around the song, which called to mind an image of workers on an assembly line. Filmed mostly at 24 fps, the film features puppets and a set built by Bizanski. "It's a complicated process for stop motion because the sculptures need to be graceful to a degree."
About the director
Born in Haifa, Israel in 1983, Adam Bizanski has been drawing and sculpting for as long as he can remember. While he received no formal art education, he came from a home in which art was practiced and encouraged. Small- scale sculpture appeals most to Bizanski, who uses materials such as office supplies, bits and parts of electrical appliances, and "whatever is in arm's reach." While studying computers and communications in high school, Bizanski decided to produce his graduate film independently using stop-motion animation. Self-taught, he created a short 6 minute film that received acclaim at the Jerusalem Film Festival. During his mandatory three-year stint in the Israeli military, where his specialty was Field Intelligence, Bizanski independently created music videos for Israeli musicians; these included stop-motion and semi-animation techniques. He went on to create a stop-motion video for the Shins (Sub Pop), one of his favorite bands from the army years. "Pink Bullets" went on to win Best Animation, music video, at Asifa-Israel Animation Festival; he had won the same award the previous year for Yoni Bloch "Naim Bachuts" (NMC Music). Bizanski's accolades also include an honorable mentioning at the Jerusalem Film Festival for "A Story with a So-so Ending" (2001). He currently resides in Tel Aviv.
Filmmaker's note
The video took five months to complete, with half the time spent on set and puppet construction, followed by filming and editorial. "Modern World" was shot on Nikon D70s, with help from AfterFX, Premiere & Stop Motion Pro, and "lots of cogs and pistons".
Related links