1/1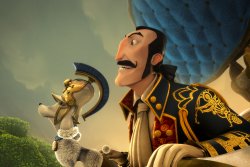 ---
A GENTLEMEN'S DUEL
East Coast Premiere
Director: Francisco Ruiz & Sean McNally
United States, 2006, 8 min
Festival Year:2007
Category:Animation
Crew:Producer: Al Shier - Original Score: Rob Cairns - Sound: Shoreline Studios - Executive Producer: Tim Miller - Associate Producer: Debbie Yu
Sales:Jennifer Miller, Venice CA 90291 USA - T: 310-581-8848
Email:jennifer@blur.com
Web:www.blur.com
Synopsis
In "A Gentlemen's Duel," a new short film presented by Oscar-Nominated Blur Studio, this time-honored tradition is re-imagined with a fantastic blend of boisterous characters and over-the-top comedic action. A seemingly innocent tea party takes a turn for the dramatic when two imperious aristocrats suddenly find themselves competing for the affections of the same fair lady.
Trailer
About the director
Francisco Ruiz Velasco: Born in Aguascalientes, Mexico, Francisco Ruiz Velasco has become a fellow Californian and a vital part of the concept art team in Blur Studio. After his glorious bullfighter years, he began his career in the comics industry in his native country in the mid 1990s. Then he later branched out and founded Studio F, a computer comic book coloring atelier. In 2000, he made his debut in the USA with the limited series 'BattleGods', which he created himself and was published by Dark Horse. His work included such prestigious series as 'Lone Wolf 2100' 'Thunderbolts' and 'Starwars' for which he did interior artwork and color design. In 2005 he joined Blur studio as a staff concept designer. Francisco is currently working on character and creature designs for Blur's first feature film in development, "RockFish."
Sean McNallySean McNally was born an air force brat, and spent his childhood moving throughout the Midwest and Germany. He attended art school at the Columbus College of Art and Design, during which he was awarded an art internship at the LucasArts Entertainment Company. He graduated in 2002 with an illustration major, which served him well during his subsequent job as a third shift grocery store stocker. In 2002, Sean joined Blur Studio and has spent the past four years fulfilling his dreams as a concept artist on a variety of creative and exciting commercial and in-house projects. Through Blur, he has worked with clients who include James Cameron, Disney Feature Animation, Universal Studios, Microsoft, Nickelodeon, and Miramax. He designed the characters for Blur's 2004 Oscar-Nominated short film, "Gopher Broke", as well as Blur's seminal "Rockfish" short film, which is currently in production as a feature film.
Related links