1/1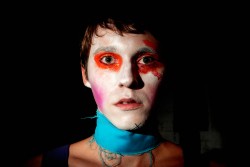 ---
THE COVENANT OF MR KASCH
East Coast Premiere
Director: Joshua Beahan & Ruwan De Silva
Australia, 2008, 11 min
Festival Year:2009
Category:Experimental
Cast:Daniel Walker, Ellen Grimshaw
Crew:Executive Producer: Ruwan De Silva - Producer: Ruwan De Silva & joshua Beahan - Screenwriter: Joshua Beahan - Editor: Joshua Beahan - Cinematographer: Ruwan De Silva - Original Score: Nicolas Randall - Sound: Micheal Ross
Sales:Ruwan De Silva - PO Box 947 , Paddington, QLD Australia 4064 - T: 011 61 424 281 146
Email:iamruw@gmail.com
Synopsis
Kasch, a rich dignity abandoned by the old world, rots in his hovel, mourning the death of his beloved. Choking on his Covenant to be hers forever, Kasch festers in his monotonous, tyrannical kingdom. Finally, his lust for the flesh of a woman drives him into the new world. His infatuation is thrust upon the timid panda girl...and he dares a taste. Iron principles confound his desires, devastation thwarts his freedom, and insanity usurps him. In the key of chaos, the beautiful Mr Kasch discovers a cruel solace in the scars of love.
About the director
Joshua Beahan & Ruwan De Silva live in Australia.
Notes
Shot entirely on a 35mm Stills camera.
Related links