1/1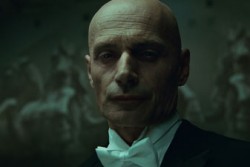 ---
NEXT FLOOR
NY Premiere
Director: Denis Villeneuve
Canada, 2008, 12 min
Shooting Format:35mm
Festival Year:2009
Category:Narrative Short
Cast:Jean Marchand, Simone Chevalot, Charles Papasoff, Daniel Rousse
Crew:Executive Producer: PENNY MANCUSO - Producer: PHOEBE GREENBERG - Screenwriter: JACQUES DAVIDTS - Editor: SOPHIE LEBLOND - Cinematographer: NICOLAS BOLDUC - Original Score: WARREN SLIM WILLIAMS - Sound: SYLVAIN BELLEMARE
Sales:Danny Lennon, Sales Agent - PHI / Prends ça court!, 356 Le Moyne street Montreal, Quebec, Canada H2Y 1Y3 - T: 1-514-212-2316
Email:dboylennon@gmail.com
Synopsis
During an opulent and luxurious banquet, complete with hordes of servers and valets, eleven pampered guests participate in what appears to be a ritualistic gastronomic carnage. In this absurd and grotesque universe, an unexpected sequence of events undermines the endless symphony of abundance.
Trailer
About the director
Denis Villeneuve has rapidly achieved both public and critical attention for films showcasing his powerful and distinctive cinematic voice. His films were screened to critical acclaim at many international festivals.
Notes
Distributor Danny Lennon will be available for Q&A after the screening of June 9th at 7 pm.
Related links