1/1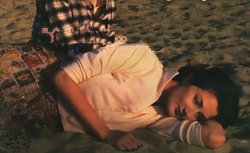 ---
WRESTLING WITH ALLIGATORS
East Coast Premiere
United States, 1998, 87 min
Shooting Format:35mm
Festival Year:1999
Category:Narrative Feature
Cast:Claire Bloom, Adrienne Shelly, Jay O. Sanders, Joely Richardson, Aleksa Palladino
Crew:Executive Produced by Mindy Affrime & Tim Buxton Original music by Andrew Hollander Cinematography by Richard Dallett Film Editing by Donna Stern Casting by Eve Battaglia Production Design by Pam Shamshiri Art Direction by Tina Manfredi
Sales:Portman Entertainment
Synopsis
Set in the 1950s, a 15-year-old girl runs away from her home deep in the Florida swamp lands and ends up in an all-womens' rooming house where she finds a substitute family in some eccentric older women who live there.
About the director
Director and co-writer Laurie Weltz's credits include At Five and Twenty Five which aired on the USA channel.
Filmmaker's note
Director Laurie Weltz has lovingly constructed a story around the intertwined lives of four women living in a boarding house in a sleepy seaside hamlet and the experiences that impact then right before America officially experiences the sixties.
Related links