1/1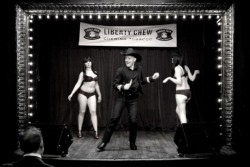 ---
STINGRAY SAM
East Coast Premiere
United States, 2009, 62 min
Shooting Format:HDCAM
Festival Year:2009
Category:Narrative Feature
Cast:David Hyde Pierce, Cory McAbee, Crugie, Joshua Taylor, Willa Vy McAbee
Crew:Executive Producer: BNS Productions - Producer: Becky Glupczynski, Bobby Lurie - Screenwriter: Cory McAbee - Editor: Andrew Blackwell - Cinematographer: Scott Miller - Original Score: American Astronaut - Sound: Karl Derfler
Sales:Becky Glupczynski, Producer - BNS Productions, 80 Elizabeth Street, #2A, New York, NY 10013, USA - T: 212.989.1038 ext. 205 - F: 212.989.3907
Email:beckyglup@hotmail.com
Synopsis
A dangerous mission reunites Stingray Sam with his long lost accomplice, The Quasar Kid. Follow these two space convicts as they earn their freedom in exchange for the rescue of a young girl who is being held captive by the genetically designed figurehead of a very wealthy planet.
Trailer
About the director
Cory McAbee (Stingray Sam) is best known as the writer, director and lead actor of the award winning film, THE AMERICAN ASTRONAUT. In 2007, McAbee was selected by the Sundance Film Festival to create one of the first five short films used to launch new advances in mobile phone technology and entertainment. The film that McAbee created entitled RENO has become a worldwide favorite among mobile operators. As an actor, McAbee has appeared in such films as THE ONION MOVIE, Todd Rohal's THE GUATEMALAN HANDSHAKE, and Robert Edward's LAND OF THE BLIND starring Ralph Fiennes and Donald Sutherland. He has performed at Lincoln Center Theatre and the Guggenheim Museum as a lead musician for the Chinese opera, THE ORPHAN OF ZHAO. McAbee is an established singer, songwriter, illustrator, animator and musician. McAbee was born in the Northern California bay area and currently resides in Brooklyn, NY.
Notes
Director Cory Mcabee will be available for Q&A after the screening on 8th June.
Related links