1/1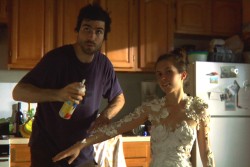 ---
GABI ON THE ROOF IN JULY
NY Premiere
Director: Lawrence Michael Levine
WINNER: Best Narrative Feature and Best Actor Female
Cast:Sophia Takal, Lawrence Michael Levine, Amy Seimetz, Brooke Bloom, Kate Lyn Sheil, Louis Cancelmi, Robert White
Crew:Executive Producer: Aimee Schoof, Isen Robbins - Producer: Sophia Takal, Katherine Wright - Screenwriter: Lawrence Michael Levine, Kate Kirtz - Editor: Sophia Takal - Cinematographer: Aaron Kovalchik - Original Score: Kevin Barker
Sales:Sophia Takal, Producer - Little Teeth Pictures, Brooklyn, NY 11222
Synopsis
An edgy character-driven ensemble comedy about ex-girlfriends, sibling rivalry and whipped cream set in a city that's constantly in flux. Gabi, a fiery Oberlin undergrad, heads to Brooklyn to spend the summer with her older brother Sam. Once she arrives, she finds Sam too busy juggling women and too irked by her provocative antics and almost constant nudity to give her the guidance she needs.
Trailer
About the director
Lawrence Michael Levine holds a BA in Creative Writing from Skidmore College and an MFA in film (screenwriting) from Columbia University. His screenplays have won various contests including the First Glance Screenwriting award, Cinestory and others. In 2003, he premiered his first full-length play, Territory, off-Broadway to excellent reviews and numerous extensions. The film version of Territory premiered at Cinequest in 2005 and went on to play a number of other festivals and received distribution. In 2009, Lawrence served as a producer on Peter & Vandy, a feature that premiered at Sundance and went on to play numerous other festivals. Gabi on the Roof in July is his second feature as writer/director.
Notes
Lawrence Michael Levine, Sophia Takal and the cast will be available for Q&A after the screenings.
Related links