1/1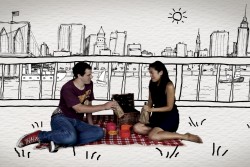 ---
COLIN HEARTS KAY
World Premiere
Director: Sebastian Conley
WINNER: Best Editing and Audience Award
Cast:Noah Starr, Emily Chang, Mellini Kantayya, Abraham De Funes, Kyle Walters
Crew:Executive Producer: Daniel Scot Kadin - Producer: Sebastian Conley, Benjamin Conley, Nitin Madan - Screenwriter: Sebastian Conley - Editor: Sebastian Conley - Cinematographer: Benjamin Conley - Original Score: Jay Lifton - Sound: Benjamin Conley and Matthew Broadfoot - Animation and effects: Sebastian Conley - Associate Producer: Kishori Rajan - Unit Production Manager: Kristine Bogan
Sales:Sebastian Conley - Brooklyn, NY 11215 - T: (347) 210-4948
Email:sc@conleybrothers.com
Synopsis
Brooklyn has been called "The Bloggiest Place in America" and this charming, wildly inventive feature is one of the first films set in the world of Brooklyn bloggers. Park Slope cartoonist Colin Jenson has just broken up with his longtime girlfriend Kay Ho, a successful food blogger. Colin takes us on a hilarious journey back in time to uncover what went wrong over their three-year relationship, and who was to blame. The journey takes on a whimsical and fantastical tone, with eye-popping special effects and animation, as we step into the world of Colin's cartoon drawings. Is love duty and sacrifice, as they say? Or is it cartoony fireworks, as Colin would have it? Shot entirely on location in Brooklyn, with a soundtrack by talented up-and-coming Brooklyn bands, Colin Hearts Kay was created by the brothers Sebastian & Ben Conley.
Trailer
About the director
Emmy-winning producer and director Sebastian Ho Conley has over ten years experience creating, writing, and directing web and advertising content. Sebastian completed a five year MFA in film writing and directing at Columbia University and studied traditional animation at the Cuckoo's Nest Hanna Barbera Studio in Taiwan. He co-directed and animated the online series "Being Stanley" for the NHL which depicted the fictional life of the Stanley Cup in Trophy Land and which won him an Emmy in 2007. Sebastian graduated from Harvard and lives with his food-blogger wife, Sarah, in Park Slope, Brooklyn.
Notes
Directors Sebastian & Benjamin Conley and actors Noah Starr and Emily Chang will be available for Q&A after the screenings.
Related links