1/1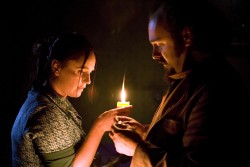 ---
THE DARK HOUSE
(Dom zly)
US Premiere
Director: Wojtek Smarzowski
Cast:Arkadiusz Jakubik, Marian Dziedziel, Bartlomiej Topa, Kinga Preis, Robert Wieckiewicz
Crew:Executive Producer: Darek Pietrykowski, Andrzej Polec, Anna Iwaszkiewicz - Producer: Feliks Pastusiak - Screenwriter: Lukasz Kosmicki & Wojtek Smarzowski - Editor: Pawel Laskowski - Cinematographer: Krzysztof Ptak - Original Score: Mikolaj Trzaska - Sound: Jacek Hamela - Co-Producer: Piotr Reisch - Production Designer: Marek Zawierucha
Sales:Feliks Pastusiak - Film it Ltd., Warsaw, Poland - T: +48 22 853 8668 - F: +48 22 852 1516
Email:f.pastusiak@filmit.com.pl
Web:www.domzly.pl
Synopsis
The Dark House has been called a "Polskie Fargo" but this film is darker and more twisted than anything the Coen Brothers have dreamed up. Set in Communist Poland during the Fall of 1978, this is a drama with pitch black humor. An accidental traveler stops and stays overnight at a farm house in a remote rural area. Soon he and his hosts, a farmer and his wife, become good friends. The evening ends in tragedy. Simultaneously, the story of a police investigation into these tragic events is unfolding, as officers attempt to solve the mystery of what happened on that night. For some of the investigators, uncovering the truth is not as important as hiding their own secrets.
Trailer
About the director
Wojtek Smarzowski graduated from the Film Studies Department of the Jagiellonian University and the Cinematographical Department of the Film School in Lodz, Poland. Wojtek's first theatrical feature "The Wedding" (2004) won more then 20 prizes at international film festivals. His feature "The Dark House" (2009) screened at festivals worldwide, and won "Best Producer" after it's USA premiere at the 2010 Brooklyn Film Festival. His third feature "Rose" swept the 2012 Polish Film Awards and was an opening night film at the 2012 Brooklyn Film Festival. "Traffic Department" - his fourth feature - was one of the top films at the Polish box office in 2013.
Wojtek Smarzowski's filmography
Notes
Director Wojtek Smarzowski, Producer Feliks Pastusiak, and Production Designer Marek Zawierucha will be available for Q&A after the screenings.
Related links