1/1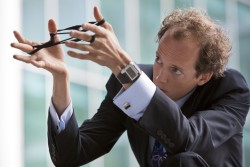 ---
WIN/WIN
US Premiere
Director: Jaap van Heusden
Netherlands, 2010, 83 min
Shooting Format:Super 16
Festival Year:2010
Category:Narrative Feature
Cast:Oscar van Rompay, Leon Voorberg, Halina Reijn, Hans Kesting, Phi Nguyen
Crew:Executive Producer: Ada Goossens - Producer: Marc Bary - Screenwriter: Jaap van Heusden - Editor: Jasper Quispel - Cinematographer: Jan Moeskops - Original Score: Minco Eggersman - Sound: Jaap Hermans
Sales:Marc Bary, Producer - IJswater Films BV, Kromme Mijdrechtstraat 110/4 1079 LD Amsterdam, The Netherlands - T: +31-194421760 - F: +31-194421725
Email:films@ijswater.nl
Synopsis
"Cock-a-doodle-doo, you sneaky post-it sucker." Ivan's innocent game of secretly sticking yellow notes with stock tips all over the big investment bank is over. A senior trader catches him red-handed and pulls him out of the stuffy research department into the buzz of the dealing room. To Ivan, the market is one big game. He is a true number cruncher, surfing the waves of the stock market. As he rakes in big profits for the bank, he moves into a fancy apartment towering above the financial city. But all is not well. As Ivan rapidly becomes the most successful trader in town, he feels increasingly alienated from himself and the world around him.And as the world economy begins to crumble, Ivan still goes on winning in the dealing room. In spite of his unprecedented success Ivan has to get out. Before it's too late.
Trailer
About the director
Jaap van Heusden graduated from the director's department of the Dutch Film Academy in 2005 with "A Complicated Story, Simply Told", which was shortlisted for the Student Academy Awards and selected for the Cannes Film Festival. His short documentary "Anderman" was warmly received by the press, theatrically released and selected for the Tribeca Film Festival and AFI Silverdocs. After developing two screenplays scripts ("1001 flight" and "Tough") Jaap directed "One Day" which premiered at the Netherlands Filmfestival and was nominated for the Golden Calf Best TV film 2008."Win/Win" is his first feature film, produced by IJswater Films in co-production with NPS television within the Telefilm-project, backed by the COBO Fund.
Notes
Director Jaap van Heusden will be available for Q&A after the screenings.
Related links