1/1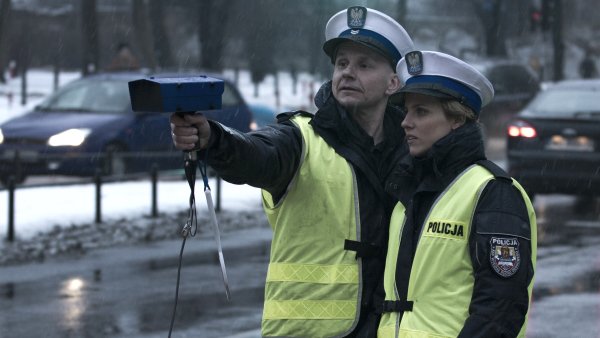 ---
TRAFFIC DEPARTMENT
(Drogówka)
NY Premiere
Director: Wojtek Smarzowski
Poland, 2012, 117 min
Shooting Format:RED
Festival Year:2014
Category:Narrative Feature
Cast:Bartlomiej Topa, Arkadiusz Jakubik, Eryk Lubos, Jacek Braciak, Julia Kijowska, Robert Wabich, Marcin Dorocinski
Crew:Screenwriters: Wojtek Smarzowski - Cinematographer: Piotr Sobocinski Jr - Produced by: Film it - Co-produced by: Agora S.A., Telekomunikacja Polska, Canal + Polska - Supported by: The Polish Film Institute
Email:f.pastusiak@filmit.com.pl
Synopsis
Seven friends, officers of the Warsaw's traffic police department, are leading seemingly fulfilled lives. They work together, party together, play jokes, cut small deals and race fast cars. Their small world gets rocked when one of them is found murdered. Sargent Król becomes a chief suspect in the case, but manages to escape arrest. As a fugitive he fights to prove his innocence. Slowly he begins to uncover a corruption scheme which points towards high circles of authority in police and politics in Poland.
Trailer
About the director
Wojtek Smarzowski graduated from the Film Studies Department of the Jagiellonian University and the Cinematographical Department of the Film School in Lodz, Poland. Wojtek's first theatrical feature "The Wedding" (2004) won more then 20 prizes at international film festivals. His feature "The Dark House" (2009) screened at festivals worldwide, and won "Best Producer" after it's USA premiere at the 2010 Brooklyn Film Festival. His third feature "Rose" swept the 2012 Polish Film Awards and was an opening night film at the 2012 Brooklyn Film Festival. "Traffic Department" - his fourth feature - was one of the top films at the Polish box office in 2013.
Wojtek Smarzowski's filmography
Filmmaker's note
Traffic Department is a robust tale about contemporary Warsaw. It is a subjective portrait of the city pulsing with streetlights, blinkers and alarm lights of police cruisers. It is a film about stupid drivers, absurd traffic regulations, about traffic jams, motorways that exist only on paper, and real potholed roads. About an obvious fact that if there are those who take, there must be those who give. And an emerging reflection about the subtle difference between the bribe and the token of appreciation.
Related links