1/1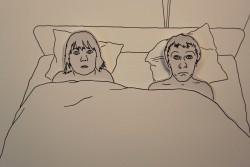 ---
ALL WE HAVE IS LOVE
World Premiere
Estonia, 2009, 2 min
Shooting Format:MiniDV
Festival Year:2010
Category:Animation
Crew:Marko Maetamm
Sales:Marko Maetamm, Tallinn 11313, Estonia - T: +372 53 431 609
Email:maetamm@yahoo.com
Synopsis
Bedroom. My wife is sleeping in the bed. Suddenly - the door opens, I sneak in and go straight into the bed. Next moment we are both completely awake and having sex. In all kind of different ways. It goes on and on. Then it suddenly stops and in the next moment we are sleeping.
Trailer
About the director
Marko Maetamm studied printmaking at the Estonian Academy of Arts. Marko works with a broad variety of media such as photography, sculpture, animations, painting and text. Marko tells us the stories that are happening behind the closed doors and pulled curtains of that most intimate territory called home. He portrays the family as a little society, exploring the ways in which "big society" manipulates the family dynamic through the macrocosms of economy, consumerism, and quality-of-life standards. Marko Mäetamm lives and works in Tallinn, Estonia. His work was included in the Venice Biennial in 2007.
Notes
Karin Laansoo will be available for Q&A after the screenings.
Related links