1/1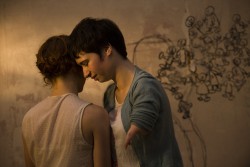 ---
NECESSARY GAMES
US Premiere
Australia, 2009, 19 min
Festival Year:2010
Category:Experimental
WINNER: Best Experimental
Cast:Lorcan Hopper, Lachlan Tetlow-Stuart, Jianna Georgiou, Dana Nance, Kyra Kimpton
Crew:Co-directors & Choreographers: Paul Zivkovich, Kat Worth, Tuula Roppola - Producer: Bryan Mason & Sophie Hyde - Screenwriter: N/A - Editor: Bryan Mason - Cinematographer: Bryan Mason - Original Score: DJ TR!P - Sound: DJ TR!P & Nick O'Connor - Production Designer: Gaelle Mellis
Sales:Matthew Cormack - Closer Productions, Kensington, SA, 5068 Australia - T: +61 8 8361 3933 - F: +61 8 8361 2922
Email:mattcormack@closerproductions.com.au
Synopsis
A dance film triptych about the human need to connect and the games we play.
Trailer
About the director
Founder and co-director of Closer Productions, Sophie Hyde makes drama and documentary films. Her documentaries include Bittersweet Freedom (2009) and Ok, Let's Talk About Me (2005) for SBS and her short drama My Last Ten Hours With You (2007) has won numerous awards. Sophie is in post-production on a short drama Elephantiasis, and Life in Movement, a documentary about the life and work of dancer/choreographer Tanja Liedtke. She is also in production as producer on a feature documentary about the infamous audio-verite recordings SHUT UP LITTLE MAN!, and is in development on her feature drama, 52 Tuesdays, to go into production next year. The film is co-directed and choreographed by Paul Zivkovich & Kat Worth & Tuula Roppola.
Filmmaker's note
A collaboration between Restless Dance Theatre and Closer Productions, Necessary Games is three new dance works made specifically for the screen. With three different takes on intimacy and connection and three explorations of the games we play, these films show honest, idiosyncratic movement and compelling interactions.
Related links