1/1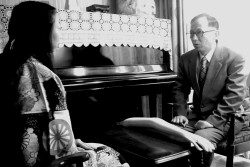 ---
ONE ARM
(Kataude)
NY Premiere
Director: Akemi Tachibana
Japan, 2008, 15 min
Festival Year:2010
Category:Experimental
Cast:Yuuki Okamotot, Aki Ouno
Crew:Producer: Akemi Tachibana - Screenwriter:Akemi Tachibana - Editor: Go Keio - Cinematographer: Kouichi Takazawa - Original Score: Media Planet - Sound: Ozaki Recording Studio
Sales:Akemi Tachibana - Chiba, Japan - T: +81 43 287 9175
Email:akemitac@nifty.com
Synopsis
A man gets one arm of a woman whom he fell in love with, after just one night. Then the man has a tragic nightmare because of one arm.
Trailer
About the director
Akemi Tachibana was born in Ehime, in the south of Japan. In the early '80 Akemi Work as an assistant film director. Between 1998 and 2001 Mis. Tachibana attended the Faculty of Philosophy at Charles University in Prague.
Notes
Director Akemi Tachibana will be available for Q&A after the June 9th screening.
Related links