1/1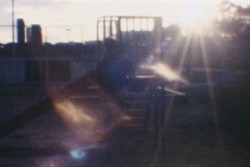 ---
LUCKY GIRL
US Premiere
Director: Alexandra Grimanis
Canada, 2009, 5 min
Shooting Format:Super 8
Festival Year:2010
Category:Experimental
Cast:Rachel Parsons, Peter Ykelenstam
Crew:Producer: Stone Lily Pictures - Screenwriter: Alexandra Grimanis - Cinematographer: Alexandra Grimanis - Location Sound: Karina Mariano - Sound Editor: Gilles Castilloux
Sales:Guillaume Lavoie - Vidéographe Distribution, 6560, Avenue de L'Esplanade, #305, Montréal, Qc, Canada, H2V 4L5 - T: 1-514-866-4720 - F: 1-514-866-4725
Email:festival@videographe.qc.ca
Synopsis
Moments in our lives that seem insignificant at the time they occur can stay with us for years, if not forever. We are haunted by what could have been, what small differences may have changed the outcome of these moments and maybe our entire lives. Lucky Girl recalls one such moment - a moment that was simple but could have turned out very differently.
Trailer
About the director
Alexandra Grimanis completed her studies in film production at Concordia University in 1997. She is co-founder of the production company Stone Lily Pictures and independent filmmaker, director of films such as Mothers of me (1999), Blue Grass Stars Baby (2004), RH Factor (co-directed with Steven Woloshen) (2007) and Lucky Girl (2009). She has worked at Main Film, an artist-run center for independent filmmakers in Montreal.
Notes
Filmmaker Alexandra Grimanis will be available for Q&A after the June 13th screening.
Related links