1/1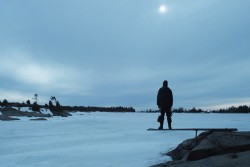 ---
OFF SEASON
NY Premiere
Director: Jonathan van Tulleken
Cast:Bill Sage
Crew:Producer: Jacob Jaffke - Screenwriter: Jonathan van Tulleken - Editor: Joe Randall-Cutler - Cinematographer: Ming Kai Leung - Original Score: iZLER - Sound: Gemma Nicholson
Sales:Jacob Jaffke, Producer - 1097 Manhattan Ave, 3rd Floor Brooklyn, NY 11222 - T: 864.934.6140
Email:jacob1381@gmail.com
Synopsis
An alcoholic transient, with only his dog for a companion, steals from summer cottages during the brutal winter of the off season. When he ventures from his usual path in search of a full bottle he makes a terrifying discovery that unravels his solitary existence.
Trailer
About the director
Jonathan Van Tulleken has been writing and directing for the past 6 years. His short films have been selected for a wide number of international film festivals amongst them Toronto, Edinburgh and Slamdance. He has also had his work screened on the BBC and as part of the Virgin Media Shorts Awards in over 200 UK cinemas. In '09 he was picked by Creativity Magazine as one of their top 10 directors to watch and most recently his film OFF SEASON was nominated for a 2010 BAFTA for Best Short. He is currently working on developing a number of feature length projects.
Notes
Director Jonathan van Tulleken and Producer Jacob Jaffke will be available for Q&A after the screenings.
Related links