1/1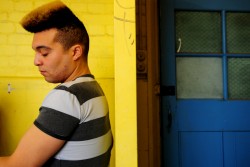 ---
KIDS MIGHT FLY
East Coast Premiere
England, 2009, 7 min
Shooting Format:Super 16
Festival Year:2010
Category:Narrative Short
Cast:Dannielle Lucas, Matthew Taylor, Azzees Minott, Georgia Kristou, Kyle Hill
Crew:Executive Producer: Cairo Cannon , Film London - Director: Alex Taylor - Producer: Hsinyi Liu , Rachael Swindale - Screenwriter: Alex Taylor - Editor: St.John O'Rorke - Cinematographer: Toby Gorman, Liam Iandoli - Original Score: Alamin Bhuiya - Sound: Dave Sohanpal - Music: Best Friends Forever
Sales:Hsinyi Liu, Producer - London, N1 4SL. - T: +44 7950 133 173
Email:hsinyi.liu@mac.com
Synopsis
A young homeless girl is taken into care. Set in an urban wilderness, this film is an offbeat and touching experimental drama about East London kids.
Trailer
About the director
Alex Taylor is a musician and composer who changed career in 2009 to direct his first short movie, KIDS MIGHT FLY, which won the Jury Prize from Film London, the Special Jury Award at SXSW, and several awards in Europe. He was shortlisted as a writer for Kevin Spacey's New Voices award in 2009. He is currently in preproduction on his next short THEY CAME FROM THE MOUNTAINS, about Eastern European girls performing exorcisms on Londoners, and is writing his first two feature films: 'BOLDO' about the first Roma Gypsy astronaut, and OTAKU about Manga-obsessed teenagers adventuring across London.
Notes
Director Alex Taylor will be available for Q&A after the screenings.
Related links