1/1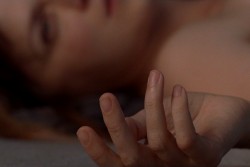 ---
BAREHANDED
(A Main Nue)
World Premiere
Director: Guillaume Foresti & Stéphane Demoustier
Cast:Arly Jover, Marc Barbé
Crew:Producer: Edyta Janczak-Hiriart - Screenwriter: Guillaume Foresti, Stéphane Demoustier - Editor: Anita Roth - Cinematographer: Benoit Rambourg - Original Score: John and Jehn - Sound: Vincent Rouffiac, Yohann Angelvy
Sales:Edyta Janczak-Hiriart, Producer - KOMETA FILMS, 49 rue Eugène Carrière 75018 Paris - T: 01 58 53 57 13 - F: 0033 1 42 81 42 50
Email:info@kometafilms.com
Synopsis
On the bus, Dina is once again overwhelmed by the uncontrollable will power of her hands. They start to fondle the hand of a perfect stranger, Luc. He takes Dina's behavior as a flirtation and seizes the opportunity to get closer to her.
About the director
Guillaume Foresti joined the Cinema School Louis Lumière in 2001. In 2005, he directed the short-film "Angel Dust", which was selected in more than 25 festivals worldwide. After several collaborations as a cameraman, he co-directed "Barehanded". Stéphane Demoustier joined the 2005-2006 Masterclass Workshop of the Cinema School La Fémis after graduating from HEC and from Sciences Politiques Paris. In 2010, Stéphane directed "Dans la jungle des villes" and "Barehanded".
Notes
Directors Guillaume Foresti and Stéphane Demoustier will be available for Q&A after the screenings.
Related links