1/1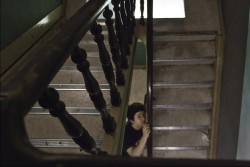 ---
LIVE A BIT LONGER...
(Vivre encore un peu…)
NY Premiere
Belgium, 2009, 15 min
Shooting Format:RED
Festival Year:2010
Category:Narrative Short
Cast:Jean-Michel Balthazar, Jean-Bastien Tinant, Daniel Bajoit, Carmela Locantore
Crew:Producer: Jean-Yves Roubin & Michel Dutry - Production Company: Frakas Productions - Screenwriter: David Lambert - Editor: Yannick Leroy - Cinematographer: Hicham Alaouie - Sound: Keng-Way Chang Chik-Tê and Leny Andrieux
Sales:Nathalie Meyer - The Big Family - 1060 Bruxelles - Belgique - M:+32-475200675 – T:+32-2538315
Email:nathalie.meyer@labigfamily.com
Synopsis
In the early hours of every single morning, while his lover Pierre is asleep upstairs, Nico works with his father the baker. All of the sudden, he falls to the ground...
Trailer
About the director
Born in 1974 in Belgium, David Lambert studied Languages and Romanic literature at the University of Liège. He works in theater as a playwright and in cinema as a scriptwriter. "Live a bit longer..." is his first short film as director.
Notes
Director David Lambert will be available for Q&A after the screenings.
Related links