1/1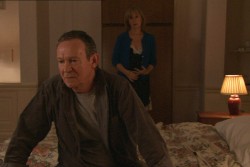 ---
SNIFF
East Coast Premiere
Director: Christine Jones
Cast:Paul Copley, Angela Douglas
Crew:Producer: Stephen Wilmot - Screenwriter: Christine Jones - Editor: Peter Williams - Cinematographer: Paddy Blake - Original Score: Will Manning - Sound: Mark Apicella
Sales:Stephen Wilmot - Kaleidos Productions, London E1 6LP - T: +44 [0]7930534557
Email:info@kaleidosproductions.com
Synopsis
Gloria and Harry, both in their late 60s, are lovers. They meet in a hotel room, having not seen each other in months. Will they rediscover their passion for each other, or is this the end?
About the director
Christine Jones was born in Florida and grew up in Miami and London. She gained her B.A. in English Literature at University College London and went on to receive an MFA in directing at Columbia University where she was taught by Tom Kalin, James Schamus and William Goldman. Whilst there, she won a scholarship from the Academy of Motion Pictures and Sciences for women in film. Christine is an award winning writer and director for both stage and screen and her films have screened internationally at festivals including Clermont-Ferrand, Indie Spirit, Colorado and the Barcelona IFF. She is currently developing a feature script.
Notes
Director Christine Jones will be available for Q&A after the screenings.
Related links